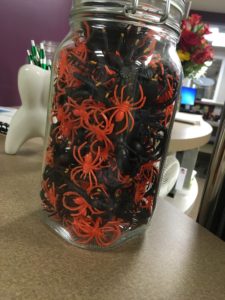 Fall is here and that means cooler weather, bonfires, pumpkin patches, Halloween, corn mazes, and best of all, no more bugs! We are ready for all of the seasonal changes and are welcoming them with open arms.
This month we're celebrating the birthdays of two very special ladies: Rebecca, one of our orthodontic assistant, and Allison, our other orthodontic assistant and lab tech. We're so grateful to have them as part of the Betsy Meade Orthodontics team!
Our office loves to celebrate Halloween so we're looking forward to dressing up this year. We also can't wait to make one of our favorite recipes to indulge in during cooler weather (and any weather, really): tomato soup and grilled cheese! It's easy, hearty, and everything a perfect comfort meal should be.
We also love to travel. Dr. Meade will be going with her dad in Utah to take in all of the gorgeous views, Laura will be going to Florida, and Haley is taking a trip to Kentucky.
Don't forget, if you correctly guess how many spider rings are in the jar that's in the office you could win a $25 gift card to Zap Zone. We hope everyone is having a great start to the fall season and hope to see you in the office soon!
Leave a Reply