I am very passionate about being an orthodontist. I love problem solving and figuring out how to get the best result possible for every patient. Seeing the transformation from the time a patient steps in the door to the day the braces come off and being able to make a positive difference in peoples' lives is very rewarding. My number-one priority is to treat all patients with respect and to create an office setting that is warm and welcoming to everyone. I'm happy when my patients are happy!
Education and Continuing Education
I am a three-time graduate of the University of Michigan. I earned my Bachelor of Science in Biopsychology and Cognitive Sciences, completed my Doctor of Dental Surgery degree, and received my specialty training in Orthodontics, graduating with a Master of Science degree.
I'm committed to lifelong learning, and my staff and I attend classes, lectures, and conferences throughout the country. I believe it's important to continually learn about the latest technologies and implement those changes to increase my level of care.
In addition to attending meetings, I am the former chair of the Washtenaw District Dental Society's new-dentist committee, which involved organizing multi-disciplinary study clubs a few times a year. This allowed me to meet and form relationships with many general dentists and specialists in the community. I am also a Diplomate of the American Board of Orthodontics, so my patients can trust that I stay up-to-date and they are receiving the best treatment possible.
Professional Affiliations
American Dental Association
American Association of Orthodontists
American Board of Orthodontics
Great Lakes Association of Orthodontists
Michigan Association of Orthodontists
Washtenaw District Dental Society
Michigan Dental Association
In the Office
I have a very hardworking team. They take pride in what they do and in making our patients happy. They are always looking for ways to improve and to serve our patients better. I am privileged to work with such an experienced and wonderful team! Dr. Meade on Google+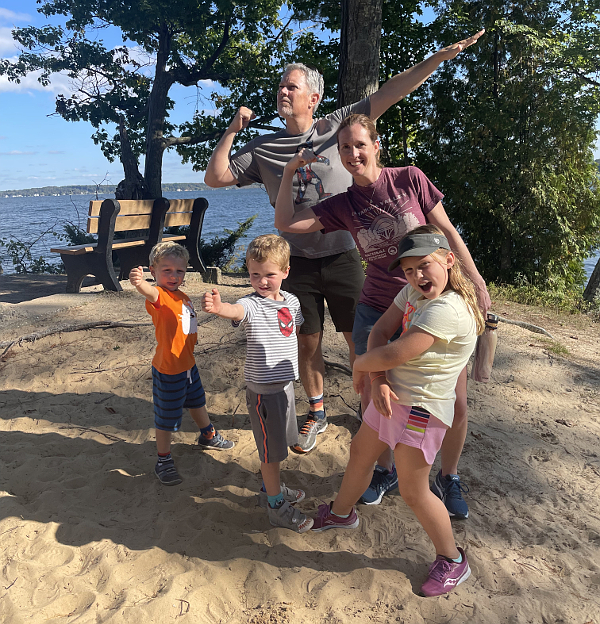 Family Life
I I live in Ann Arbor with my husband, Brian, my daughter, Cora, and my twin sons, Evan and Isaac. I grew up in Hillsdale, MI, the oldest of four children. Following two years of private practice in Rochester, MN, I moved back to Michigan in 2010.
I love being a part of this practice and having the opportunity to be involved in our wonderful community. My family and I spend much of our time enjoying the outdoors, running, hiking, and traveling. I love to cook and try new restaurants and I'm an avid University of Michigan sports fan!
Please click here to schedule an appointment!